She has never disappointed in serving her fans with the simplest yet most satisfying looks. The famous pretty Nigerian lady with no-makeup is back again! This time, the young fast-rising model Ifedioku wasn't shy to leave her comfort zone in Umuahia (Abia State), and she is now finally having a tour outside her home state. In her latest rollout of snapshots, she shares some very interesting selfies of herself rocking a casual costume and spending time on a farm - and, as usual, she was looking flawless in natural beauty!
But one fascinating moment from the selfies she shared on Instagram is already causing so much buzz.
Nothing short of exciting vibes is what young beautiful lady Ifedioku brings everytime she pops up on Instagram, as her selfies are often so refreshing. So she finally decided to leave her comfort zone in Umuahia, Abia State, to feel a different atmosphere in Nigeria's capital city Abuja. And from the new selfies she shared on her Instagram page, clearly the beautiful model seemed to have enjoyed her short stay in the Federal capital territory - particularly on her visit to animal farm.
Interestingly, a particular view from her shared snapshots is already making observers to make serious guessing.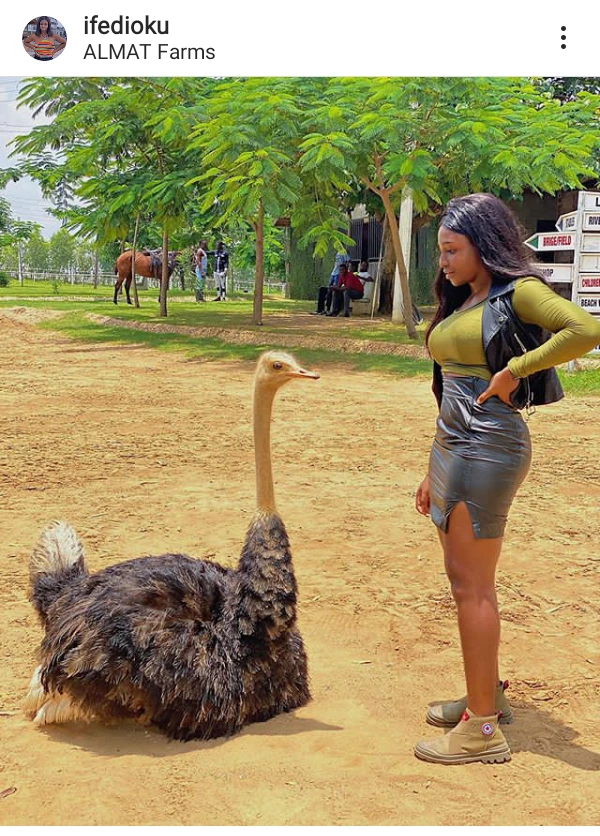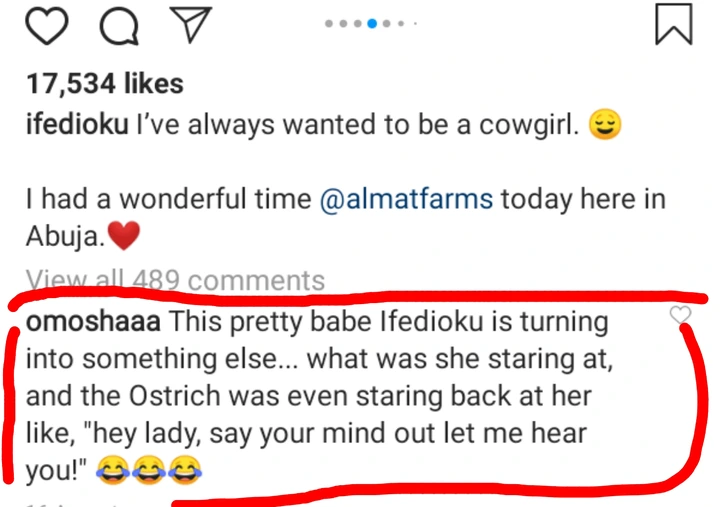 In the selfies she shared on her Instagram page, pretty Ifedioku could be seen rocking a simple casual of brown top & black short skirt, with a mild black sleeveless jacket and brown boots to complete the looks. And she simply captioned the post: "I've always wanted to be a cowgirl. 😌"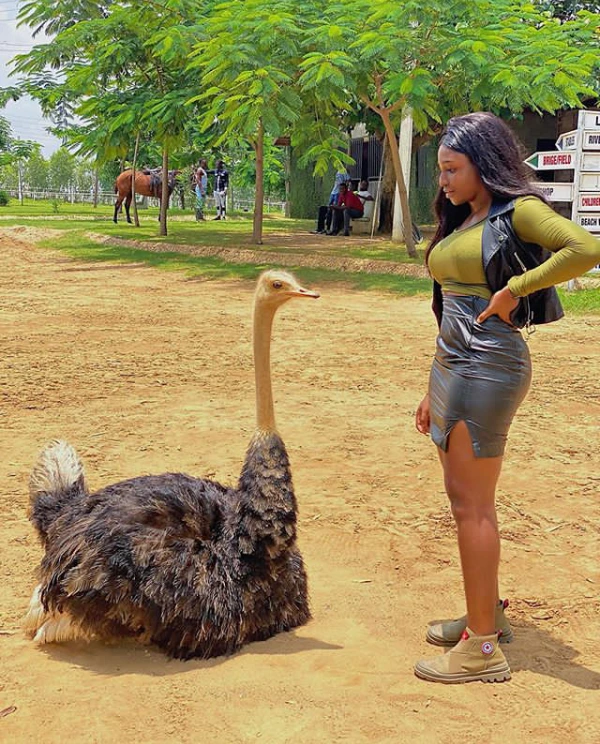 However, while at the animal farm, an encounter between Ifedioku and an Ostrich seemed to have attracted the attention of a fan. The particular selfie captured the young model staring at the Ostrich in a curious way. And a fan, who was really interested to know what exactly was going on in that snapshot, thus commented: "This pretty babe Ifedioku is turning into something else... what was she staring at, and the Ostrich was even staring back at her like, "hey lady, say your mind out let me hear you!" 😂😂😂"
See below some bonus selfies of Ifedioku at the animal farm: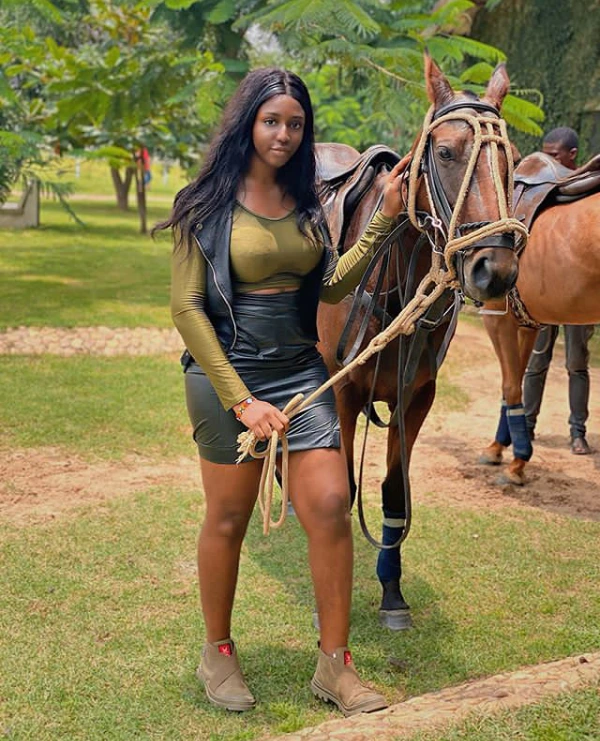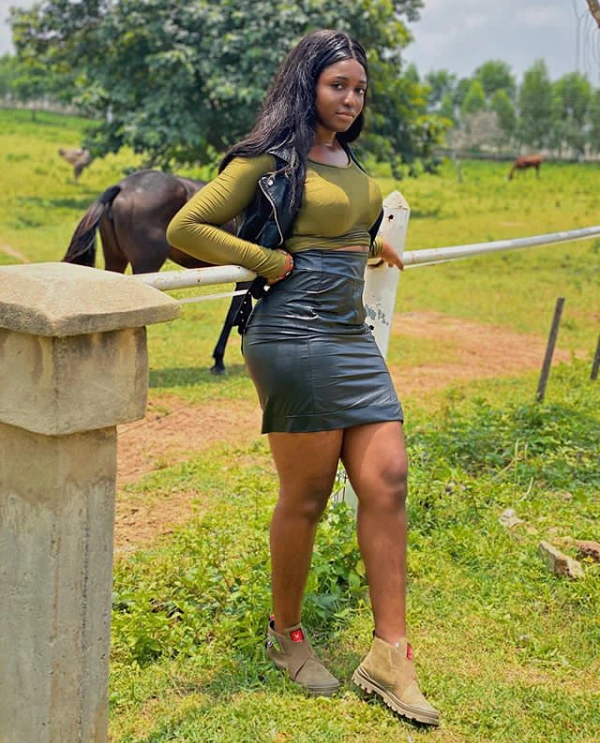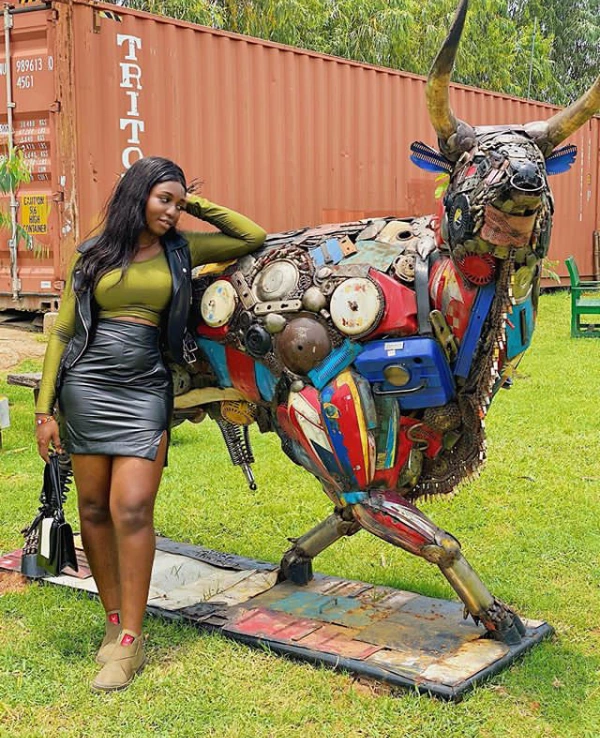 Really, that stare from Ifedioku at the Ostrich was quite a funny one, as one could easily guess what she was thinking in that moment. Maybe she was actually admiring the unique creature, or just wondering how an animal's neck could be so long like that. Or it could as well be something else on her mind! We might never know exactly her thoughts in that moment, only Ifedioku herself can reveal what she was genuinely thinking while staring at the Ostrich.
Quick teaser >> Be honest, can you decode what Ifedioku was saying in her mind while watching that Ostrich?
Share your thoughts!