The 37-year- old professional rapper has confirmed she is expecting her first child with her husband, Kenneth Petty on social media on Thursday. The rapper revealed her cravings during quarantine and tweeted that she would show her baby bump in a couple months.
The Anaconda rapper earlier gave the hint that she has a bun-in-the-oven when she went on about the cravings she has during lockdown. After a fan asked if she has been cooking during quarantine, Nicki Minaj responded:
"Absolutely. Steak. Shrimp. Plus my famous cheeseburger so good. Been rlly having red meat cravings then salad cravings with jalapeños. Orderd Chkn nachos that didn't come w/jalapeños. Who does that? WOW",she wrote.

Another follower asked if she has been throwing up in the morning or having to go to the bathroom a lot, she responded:
"Lmao, not throwing up. But nausea and peeing non-stop. Omg what do you think this means guys???. Lmaooooooooo" Nicki tweeted.
During her online Questions and Answers, she(Nicki) was asked if she can "post a baby bump pic"
She said with emojis of happy faces and hearts: "Yea in a couple months. The world ain't ready yet"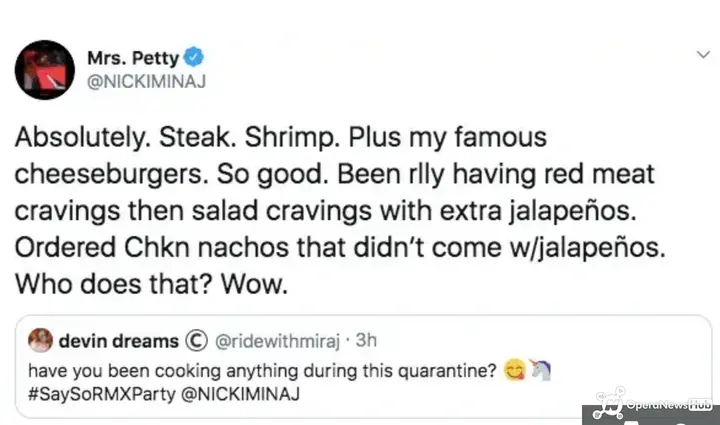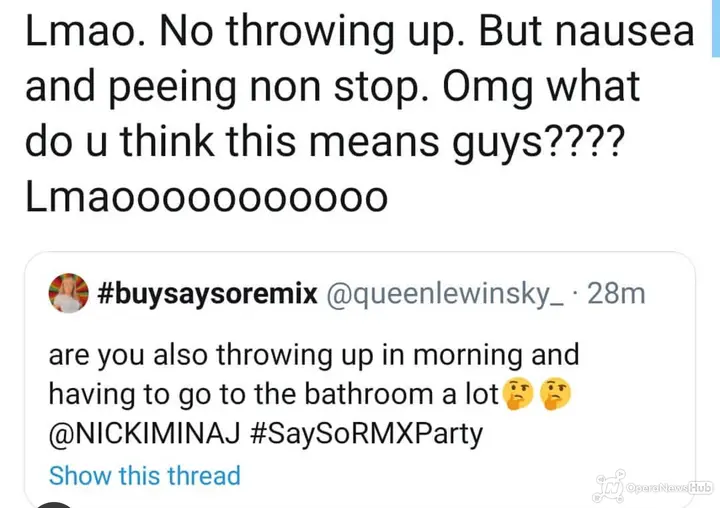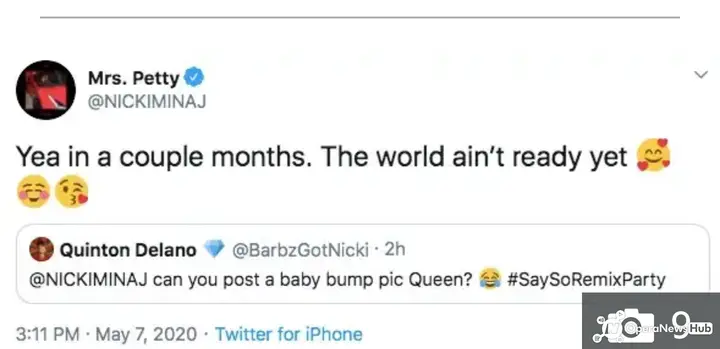 Fans immediately began to speculate the lack of liquor consumption meant she could have been pregnant." so are we all invited to the baby shower orrrr what" one follower replied with many other followers agreeing.
Nicki Minaj has long been open in the past with her disire of becoming a mother.
In 2014 she revealed to Vogue Italia " I have given myself a time limit to take my professional satisfaction. I do not want to work all my life and never experience the joys of the family. It is not time yet" she said
Also, just the day before Nicki Minaj reveals she is pregnant, her ex Meek Mill welcomed the son with his girlfriend, Milan Harris, on Wednesday.
The star was overwhelmed that his son was born on his 33rd birthday. In a now deleted tweet the rapper wrote " my girl is with me pregnant watching me tweet about my ex, is very clownish...Ima exit"
Recall Nicki and Meek were in a relationship before they separated back in 2016 and have since then been in a longtime feud.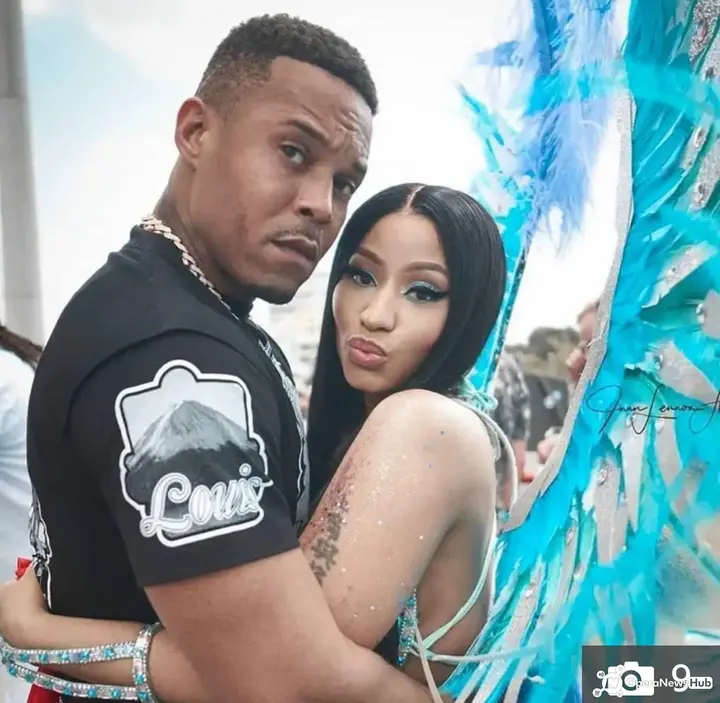 On a final note, congratulations to the queen of rap, Nicki Minaj and also to the Petty Family.