We are here to legitimately feed you with tips and tricks, Android hacks, Android HowTo's, Free net cheats and technology updates we know you are interested in getting to know. More reason you should use this opportunity to tap on the follow ➕ button above to get us glued for real time updates.
Today I have decided to get in touch with Android hidden feature and this time around it is definitely going to help lots of Android users with 4G enabled devices. This is just a tip on how to ensure you browse and download at full 4G speed without throttling or connection switching over from 4G to 3G or even Edge at some point. We all know this can be so frustrating at times!
I know you are more interested on how this is possible, but not to worry! With droidvilla.com at your service we have got all your problems solved and stored for questions.
So without further pen down lets just go straight to the deal for the day:
How to force enable 4G mode only on your android device
We all know surfing the internet this days requires strong internet connection and for sure a steady connection mode. Finally the days of 2g/3g/4g or 3g/4g mode only is becoming a pin in the butt! Annoying surfing the internet and all of a sudden your connection goes out from 4G to 3G and more painful when you are downloading a huge file or application that requires straight-up download without pausing or disconnection error.
So here is a simple tip on how to force your Android device connection to your preferred option!
⭕LTE mode only (Your connection will be forced to be LTE mode only). Experience super surfing speed!! Preferable for downloads.
⭕4g mode only (Your connection gets a 4g uninterrupted connection while you surf the web)
⭕H+ mode only (also 3g+) Uninterrupted connection as you surf the internet!
⭕3g mode only (your connection remains on 3g stand by mode) preferable for surfing the web!
Lets get to the point now! Here is 100% safe method and easy guide on how to Force your 4g enabled device to 4g mode only and experience max internet speed connection and download.
⚠️⚠️⚠️#Note: Make sure your device is 4g enabled to access 4g mode only and LTE mode!!
↕️Follow steps below :
➡️Open your phones dialer
➡️Dial *#*#4636#*#*
⤵️A new screen will be shown with 3 options.
➡️Choose Option of Phone 📱 Information.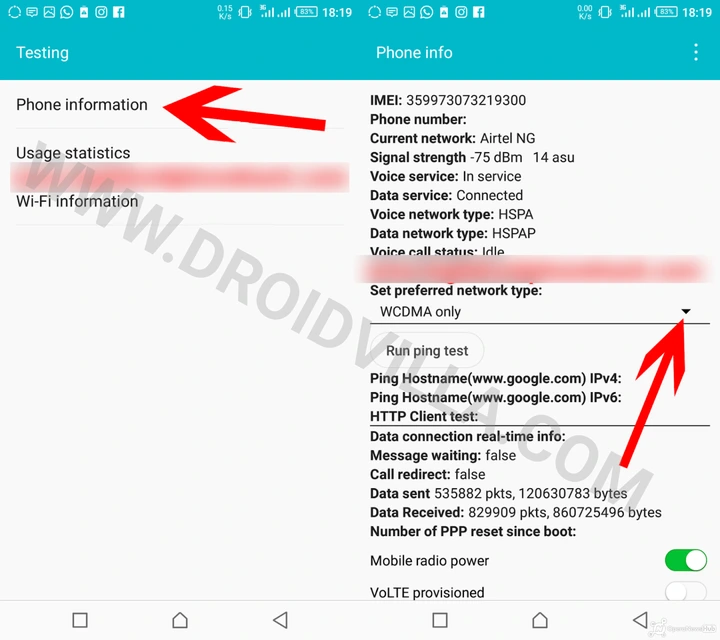 ↪️Then you should be able to see your phones information and preferred network type.
⬇️Now open preferred network type and you should see lots of options.
⬇️Scroll to where you see LTE only .
🔃When done you have successfully activated 4g mode only.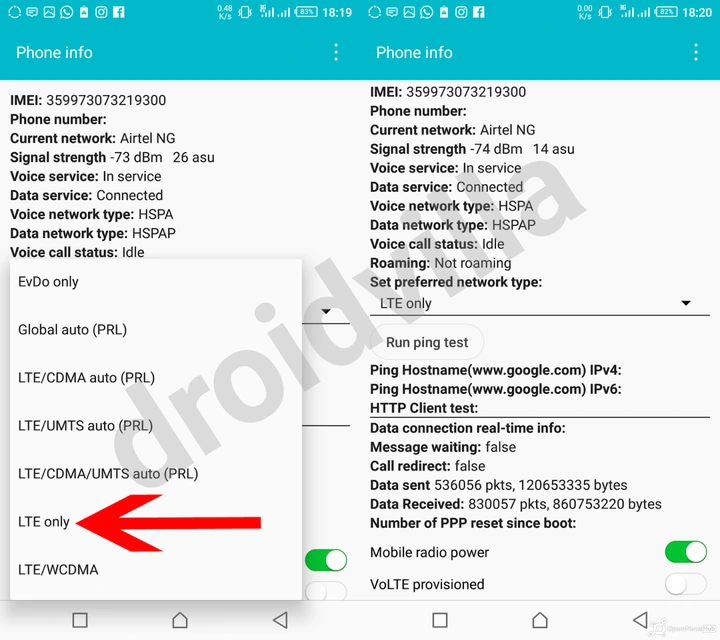 Now thats all, simple and easy. Once activated you should experience uninterrupted internet speed while surfing the internet or downloading files.
Fear of data connection switching from one mode to the other is over. Do feel free to give us a thumbs up 👍 by clicking the like button below and sharing this post to other social platforms.